Prepare Yourself For Love

Call Today 0904 007 1441
(Call cost 45p per minute plus network access charges apply)
Can Lovescope Readings Change Your Life?
Many people wonder, can lovescope readings really change your life. The answer to this question is an emphatic yes! Lovescope readings can not only tell you how compatible you are with a current lover. They can also tell you how to prepare yourself for love.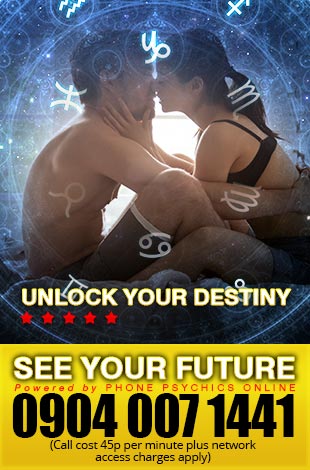 Many people consider themselves to be "unlucky in love". Perhaps a woman has been on her own for many years without so much as a single date. Or maybe she has a pattern in her life of all men cheating on her. Perhaps a man is deeply in love with a woman, but that woman has just married someone else. A man knows who his twin-flame is, but the twin flame doesn't seem to realise it and is posting lots of photographs of himself on facebook with other men. (Lovescopes are just as effective in same-sex relationships and twin-flame connections can be same-sex as well as boy-girl).
If you feel you are unlucky in love, then you may feel that there is something wrong with you as a person. This, however, is never the case. For every person there is a soulmate. For every pot there is a lid. The truth is, if you are never successful in finding the right relationship, you will be blocking this on an unconscious level. Your lovescope will be able to show you how and where you are blocking your perfect relationship, and what steps you can take to heal this.
Finding your twin-flame is a job best left to the universe. You will find your twin-flame when you are least looking for him or her. A conscientious search for your twin flame will never work. However, if you have never found your twin flame, it may be because you are blocking that flow of energy into your life. This blockage could be caused by fear, unforgiveness, or karmic patterns. A lovescope reading will be able to guide you as to the karmic patterns that effect your lovelife, and how to heal these in your own soul. You will then be free to meet your twin flame, and lead a fulfilling and joyful life.
Finding Your Twin-Flame

Call Today 0904 007 1441
(Call cost 45p per minute plus network access charges apply)
5 Star UK Psychic Text Answer Service
Text Your Question To An Expert Reader Below : Receive Indepth Answers
Peter
Psychic Clairvoyant
07441 910 383
London
I am a Clairvoyant Psychic. I am available to offer you insight into your present, past and future with a gift that has been mine since a very young age.
Ruth
Psychic Tarot
07441 910 197
North
I am a gifted and natural tarot and psychic reader with over 10 years worth of experience, reading professionally for people from all over the world.